Our original browser coding product, ScraperWiki, is being reborn.
We're pleased to announce it is now called QuickCode.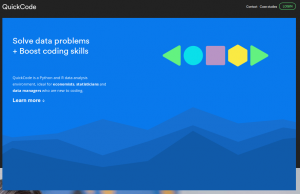 We've found that the most popular use for QuickCode is to increase coding skills in numerate staff, while solving operational data problems.
What does that mean? I'll give two examples.
Department for Communities and Local Government run clubs for statisticians and economists to learn to code Python on QuickCode's cloud version. They're doing real projects straight away, such as creating an indicator for availability of self-build land. Read more

Office for National Statistics save time and money using a special QuickCode on-premises environment, with custom libraries to get data from spreadsheets and convert it into the ONS's internal database format. Their data managers are learning to code simple Python scripts for the first time. Read more
Why the name change? QuickCode isn't about just scraping any more, and it hasn't been a wiki for a long time. The new name is to reflect its broader use for easy data science using programming.
We're proud to see ScraperWiki grow up into an enterprise product, helping organisations get data deep into their soul.
Does your organisation want to build up coding skills, and solve thorny data problems at the same time?
We'd love to hear from you.