Last Friday we hosted the second of ScraperWiki's Hacks and Hackers Hack Days – in Liverpool, sponsored by Liverpool John Moores University Open Labs and the Liverpool Post & Echo. It marked the start of the ScraperWiki UK tour, with plans for events in Leeds, Manchester, Glasgow, Dublin, Belfast, London and Cardiff.*
We had a fantastic turnout, with a mix of programmers and journalists from a variety of backgrounds. We stole a good number from the Liverpool Post & Echo newsroom, who came armed with brilliant ideas for local data mashing.
Teams – both large and small – formed quickly, according to specialism and interests. Then, it was down to the hacking…
We had crime…
Alison Gow, Frank Swain, Sam Sutton, Luke Traynor, Maria Breslin worked on the Life and Alleged Crimes of Pancake Taylor. This visualisation project took the story of one local man's brush with the law. Using maps and timelines, the eventual result was a web page dedicated to this notorious Liverpool gangster's (alleged) activities.
Crime prevention…
Julian Todd, Jo Kelly and Joni Alexander  took data from the Merseyside Police website, in order to show when a policeman or woman is removed from the listing of officers covering an area, or added. This project could be rolled out in any local area, using similar data. Read more on Ed's blog here.
Court case alerts…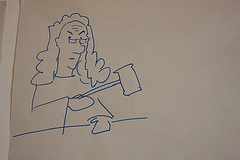 Adrian McEwen, Donovan Hide, John O'Shea and Andy Freeney worked on 'The Gavel' featuring Judge Duino (Do-eee-no), with the aim of making legal process data tangible.
It took as a starting point the messy information put out by Her Majesty's Court Service: and attempted to scrape this – making clean, clear information available in real time.  They ended up with something which "pretty much" worked, and since then Donovan has developed it, at http://causelist.org/.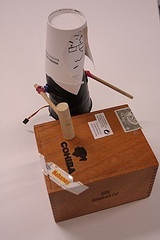 They started to think about new and interesting ways that this data might be interpreted publicly and built an electronically controlled 'gavel' which could be triggered in response to different aspects of the data.
John O'Shea said: "I think that this project might be thought of as a very early prototype for a truly public and transparent interface with 'law'."
Video of the judge in action at this link [Photos: John O'Shea on Flickr]
Local data mapping…
David Bartlett, Mike Nolan, Neil Morrin, Ben Turner, Dan Kay, Martin Dunschen, Tori Hywel-Davies, Paul Freeman, Dan Owen and Kevin Matthews scraped local data sets to do with health, education and transport for a series of Merseyside maps. The project was to create a map packed with local information eg. schools, GP surgeries, train stations, etc. They managed to scrape information from Liverpool PCT for GPs, the National Rail website for stations, and the department of education's site for schools.
They found that using Google Earth was the only way to get it all on one map. For the project to really work and become useful with more information added, a new map interface would be needed to allow users to select what information they wanted displayed, says team member David Bartlett. The team's presentation can be viewed here.
Business…
The 'Business Light' by Mark Thomas, Francis Irving, Aidan McGuire, Ben Schofield, Alistair Houghton, Laurence Rowe and Tom Mortimer-Jones was a dashboard for watching business activity in Merseyside – allowing users to make informed business decisions through a traffic light ranking system.  They protoyped it, checked what data they could get (employment levels, insolvancies, contracts etc.), and worked out what the website would do. It also involved visualisations and screen scraping.
Libraries…
In 'Library Data: What's the Story?' (originally: 'why aren't libraries more like Amazon?') Ben Webb, Anna Powell-Smith and Mandy Phillips followed up a story on closed data in libraries. UK libraries generally have proprietary catalogue systems without public APIs. As a result, libraries have to pay for access to their own data, and users can't share records easily. They found some sample open RDF data from one library provider, and built a prototype for an open UK-wide catalogue search. Find the presentation at this link.
Sport…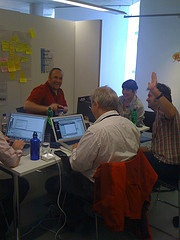 Jamie Bowman, Francine Higham, John McKerrell, Neil Macdonald and Francis Fish tackled the Other World Cup.
This was the World Cup's alternative story. A visualisation showed stats that the media weren't focusing on: the number of people displaced; and the chance of England winning, for example.
Meanwhile, Adrian McEwen's lovely
Bubblino machine tweeted bubbles everytime the hashtag #hhhliv was uttered on Twitter.
The winners of the day, as judged by Jane Clare, executive editor of Trinity Mirror's Merseyside Weeklies, lawyer Steve Kuncewicz, and Lindsay Sharples, director of LJMU Open Labs:
First: The Business Light
Second: Why aren't libraries more like Amazon?
We'd like to say a big thank you to our sponsors for hosting, feeding and rewarding our hard working participants; and congratulations to all involved in the day. Thank you to all the hacks and hackers who supplied information for this blog post.
What they said…
"I've just had one of the best working days you could wish for…" Alison Gow, executive editor, digital, Liverpool Post & Echo.
"I'm still fascinated by #scraperwiki and #hhhliv. I should investigate more," @defnetmedia on Twitter.
"Great day at #hhhliv trying to visually represent costs of #Worldcup. Trying to to take this further as lots more info emerges in future months," @fransa on Twitter.
"Good day #hhhliv. Learned a lot from some very smart people,"  @ed_walker86 on Twitter.
"What impressed me most about the event was the total commitment of all of those present to be involved in the process and deliver a fresh idea," John O'Shea, artist.
Blog coverage
*Locations may be added or removed, depending on interest. If you would like to talk to us about getting involved in these events, as a partner or sponsor, please contact judith [at] scraperwiki.com.