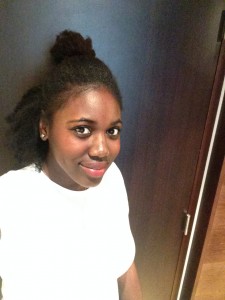 My name is Leonisha Barley, and I am the latest addition to  the people fortunate enough to have an internship opportunity at Scraperwiki. I just finished my 2nd year at The University of Manchester studying for a BA(Hons) degree in Sociology and Criminology and I am exciting about developing my skills further this summer.
There is a quote that 'Every Accomplishment begins with the decision to try ' which I agree with and which therefore led me to my internship at Scraperwiki. I say this because I do not actually have an academic background in social statistics, however during the second year of my course I wanted to push myself and try to conquer (or at least reduce) my fear and dislike of mathematics and IT, therefore I choose a module from a different degree programme called Social Statistics.
The module I completed is called The Survey Method in Social Research. Whilst completing this course I learnt about designing surveys such as different types of sampling and what types of questions to ask.I also learnt how to use data from an existing survey to publish frequency tables and graphs, as well as cross tabulations and basic recoding using the software package of SPSS. I really enjoyed taking data from the Crime Survey for England and Wales and using SPSS to do cross tabulations and produce graphs that showed what effect age,sex or level of education had on  agreement about whether gay or lesbian couples should be allowed to get married.
Then came along an opportunity to do an internship organised by Q-step,who aim at helping students develop their quantitiative skills within a real life work environment. After reading about Scraperwiki I was really impressed  by and interested in how it makes data such as government data more accessible and easier to understand and I was lucky enough to secure an internship here. The fact that it is located in my hometown of Liverpool made it even better.
I have only been here for a few hours so far but I have been welcomed by a friendly group of programming experts , who have put my nerves at rest. The team is really quite small as  everyone fits into one room making it comfortable to communicate and I have been introduced to a chat room used by the organisation called Slack which makes asking questions  to a specific person easy without disturbing others.
During my 8 week internship I hope to be looking at GP Prescribing data and searching for trends such as whether there is seasonal periodicity in drug prescription data and whether there are demographic variations in GP prescriptions. I also look forward to developing my skills in SPSS , Excel and learning how to use other programming tools such as R and Python.
Scraperwiki is going to be a completely new experience for me and I look forward to tapping into the quantitative part of my brain with the help of the friendly experts working here.