This post is about the government Contracts Finder website. This site has been created with a view to helping SMEs win government business by providing a "one-stop-shop" for public sector contracts.
Government has been doing some great work transitioning their departments to GOV.UK and giving a range of online services a makeover. We've been involved in this work, in the first instance scraping the departmental content for GOV.UK, then making some performance dashboards for content managers on the Performance Platform.
More recently we've scraped the content for databases such as the Air Accident Investigation Board, and made the new Civil Service People Survey website.
As well as this we have an interest in other re-worked government services such as the Charity Commission website, data.gov.uk and the new Companies House website.
Getting back to Contracts Finder – there's an archive site which lists opportunities posted before 26th February 2015 and a live site, the new Contracts Finder website, which has live opportunities after 26th February 2015. Central government departments and their agencies were required to advertise contracts over £10k on the old Contracts Finder website. In addition the wider public sector were able to advertise contracts on there too, but weren't required (although on the new Contracts Finder they are required to on contracts over £25k).
The confusingly named Official Journal of the European Union (OJEU) also publishes calls to tender. These are required by EU law over a certain threshold value depending on the area of business in which they are placed. Details of these thresholds can be found here. The Contracts Finder also lists opportunities over these thresholds but it is not clear that this must be the case.
The interface of the new Contracts Finder website is OK, but there is far more flexibility to probe the data if you scrape it from the website. For the archive data this is more a case of downloading the CSV files provided although it is worth scraping the detail pages indicated from the downloads in order to get additional information such as the supplier to which work was awarded.
The headline data published in an opportunity is the title and description, the name of the customer with contact details, the industry – a categorisation of the requirements, a contract value, and a closing date for applications.
We run the scrapers on our Platform which makes it easy to download the data as an Excel spreadsheet or CSV, which we can then load into Tableau for analysis. Tableau allows us to make nice visualisations of the data, and to carry out our own ad hoc queries of the data free from the constraints of the source website. There are about 15,000 entries on the new site, and about 40,000 in the archive.
The initial interest for us was just getting an overview of the data, how many contracts were available in what price range?  As an example we looked at proposals in the range £10k-£250k in the Computer and Related Services sector. The chart below shows the number of opportunities in this range grouped by customer.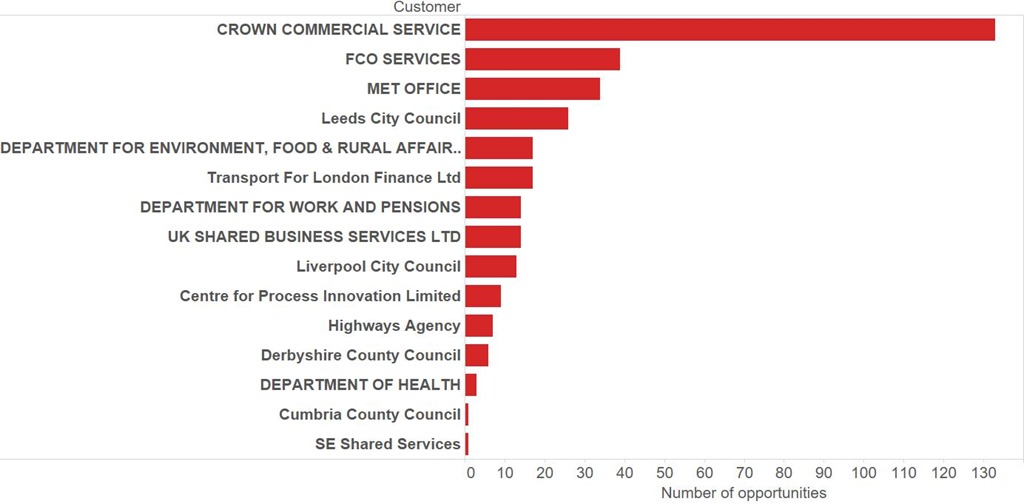 These opportunities are actually all closed. How long were opportunities open for? We can see in the histogram below. Most adverts are open for 2-4 weeks, however a significant number have closing dates before their publication dates – it's not clear why.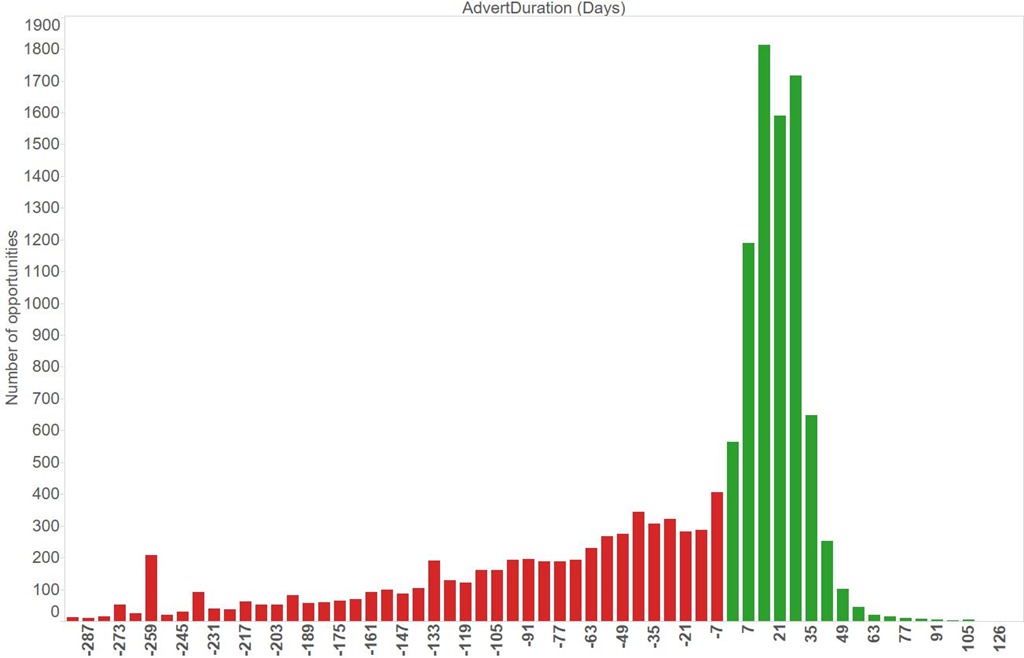 There is always fun to be found in a dataset of this size. For example, we learn that Shrewsbury Council would have appeared to have tendered for up to £1bn worth of fruit and vegetables (see here). With a kilogram of carrots costing less than a £1 this is a lot of veg, or a mis-entry in the data maybe!
Closer to home we discover that Liverpool Council spent £12,000 for a fax service for 2 years! There are also a collection of huge contracts for the MOD which appears to do its contracting from Bristol.
Getting down to more practical business we can use the data to see what opportunities we might be able to apply for. We found the best way to address this was to build a search tool in Tableau which allowed us to search and filter on multiple criteria (words in title, description, customer name, contract size) and view the results grouped together. So it is easy, for example, to see that Leeds City Council has tendered for £13million in Computer and Related Services, the majority of which went on a framework contract with Fujitsu Services Ltd. Or that Oracle won a contract for £6.5 million from the MOD for their services. You can see the austere interface we have made to this data below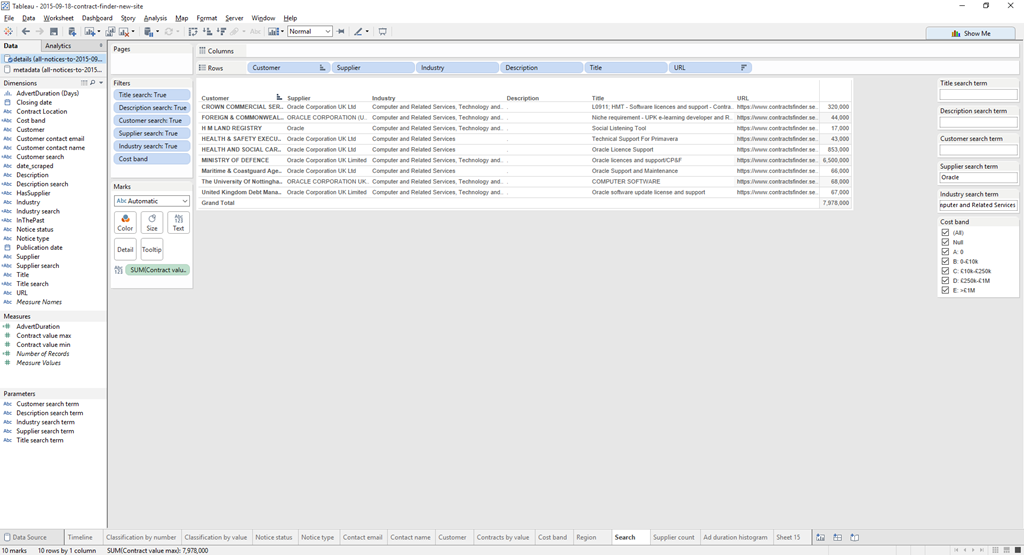 Do you have some data which you want exploring? Why not get in touch with us!
Got a PDF you want to get data from?
Try our easy web interface over at
PDFTables.com
!