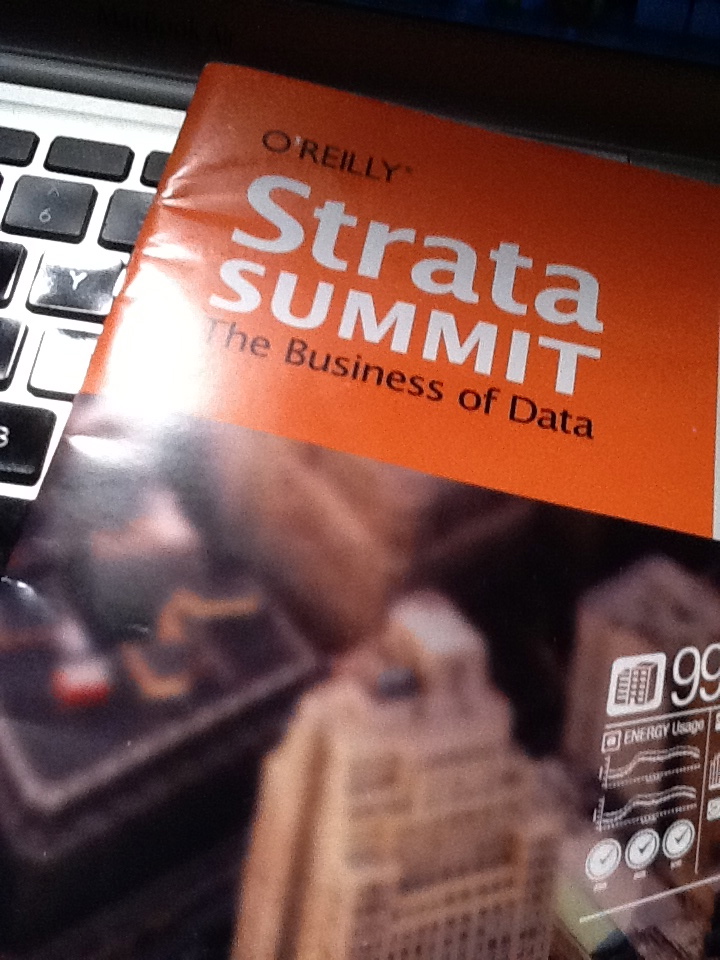 My colleague @frabcus captured the main theme of Strata New York #strataconf in his most recent blog post.  This was our first official speaking engagement in the USA as a Knight News Challenge 2011 winner.  Here is my twopence worth!
At first we were a little confused at the way in which the week long conference was split into three consecutive mini conferences with what looked like repetitive content.  The reality was that the one day Strata Jump Start was like an MBA for people trying to understand the meaning of 'Big Data'.  It gave a 50,000 foot view of what is going on and made us think about the legal stuff, how it will impact the demand for skills and how the pace with which data is exploding will dramatically change the way in which businesses operate – every CEO should attend or watch the videos and learn!
The following two days called the Strata Summit were focused on what people need to
think about strategically to get business ready for the onslaught.  In his welcome address Edd Dumbill program chair for O'Reilly said "Computers should serve humans….we have been turned into filing clerks by computers….we spend our day sifting, sorting and filing information…something has gone upside down, fortunately the systems that we have created are also part of the solution…big data can help us…it may be the case that big data has to help us!"
To use the local lingo we took a 'deep dive' into various aspects of the challenges.  The sessions were well choreographed and curated.  We particularly liked the session 'Transparency and Strategic Leaking' by Dr Michael Nelson (Leading Edge Forum- CSC) where he talked about how companies need to be pragmatic in an age when it is impossible to stop data leaking out of the door.  Companies he said 'are going to have to be transparent' and 'are going to have to have a transparency policy'.   He referred to a recent article in the Economist 'The Leaking Corporation' and its assertion that corporations that leak their own data 'control the story'.
Courtesy of O'Reilly Media
Simon Wardley's (Leading Edge Forum – CSC) 'Situation Normal Everything Must Change' segment made us laugh especially the philosophical little quips that came from his encounter with a London taxi driver – he conducted it at lightening speed and his explanation of 'ecosystems' and how big data offers a potential solution to the 'Innovation Paradox' was insightful.   It was a heavy duty session but worth it!
Courtesy of O'Reilly Media
There were tons of excellent sessions to peruse.  We really enjoyed Cathy O'Neill's  What kinds of people are needed for data management' which talked about data scientists and how they can help corporations  to discern 'noise' from signal.
Our very own Francis Irving was interviewed about how ScraperWiki relates to Big Data and Investigative Journalism.
Courtesy of O'Reilly Media
Unfortunately we did not manage to see many of the technology exhibitors #fail. However we did see some very sexy ideas including a wonderful software start-up called Kaggle.com – a platform for data prediction competitions and its Chief Data Scientist Jeremy Howard gave us some great ideas on how to manage 'labour markets'.
..Oh yes and we checked out why it is called Strata….
We had to leave early to attend the Online New Association – #ONA event in Boston so we missed part III which was the two day Strata Conference itself – it is designed for people at the cutting edge of data –  the data scientists and data activists!  I just hope that we manage to get to Strata 2012 in Santa Clara next February.
In his closing address 'Towards a global brain'  Tim O'Reilly gave a list of 10 scary things that are leading into the perfect humanitarian storm including…Climate Change, Financial Meltdown, Disease Control, Government inertia……so we came away thinking of a T-Shirt theme…Hmm we're f**ked so lets scrape!!!