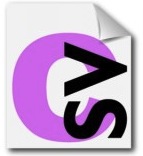 It must be rocket science!  The CSV (comma separated values) file has been in use for 45 years, from before men walked on the moon, and it still remains the cheapest and most reliable way to move data from one computer system to another.
While hardware and software standards have moved forwards with the technology (from USB connectors to OpenGL cards), data has, with a few exceptions, remained in the Apollo space age.
That's not to say there has been no progress. For example, there is Electronic data interchange to replace paper-based purchase orders with electronic equivalents, and Legal Electronic Data Exchange Standard use by law firms to transmit bills and invoices to their corporate clients, while the banks have SWIFT to handle interbank messages.
There are high profile initiatives like the 'Linked Data' movement spearheaded by Sir Tim Berners Lee and aimed at making data interoperability universal but is a hard nut to crack.
It must have been the promise of sales and the demands of frustrated customers that led Compaq, Digital Equipment, IBM, Intel, Microsoft, and Northern Telecom to replace an existing mixed connector system with a simpler architecture and thus create the USB (Universal Serial Bus) which became widely adopted within a mere two years of its introduction.  Where is the equivalent leadership for data interoperability going to come from?  Mr Ellison?  Mr Ballmer?
Without major software companies pushing for a standard it just ain't going to happen and so the humble CSV file could be here for a very long time to come….