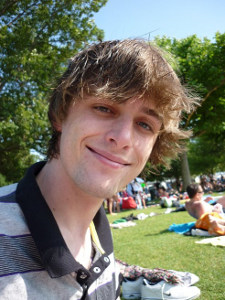 .. and I'm the new guy. I've just completed my PhD in particle physics on the ATLAS experiment at CERN. I loved the physics (because "searching for extra dimensions of space" sounds so cool!) but after 8 years I decided I wanted to do something different. At heart, I'm a programmer and a hacker who is fascinated by computers and the immense power they put in your hands. We live in an age where a single person can sift through billions of records in an instant. Even today I repeatedly find myself saying "we live in the future, Man". Yet we take Google (or DuckDuckGo) for granted.
On my travels I have spent a lot of time with the lower levels of the machine, writing an optimized data format for ATLAS' huge amount of data. I also collaborated with friends on a tool for visualizing the nature of our proton collisions. My default state is to be immersed in code and data.
I was searching for a new job to start my future career outside of academia and there was little to be found. Outside of London or Silicon Valley, there seemed to be very few companies in the world — let alone in my locality — which understood who I was and what made me tick. It is very fortuitous that I've found myself working with this band of awesome people on stuff we care about at ScraperWiki.
In the short term, the focus of my efforts will be building tools for ScraperWiki's new platform and enhancing the platform itself to make it work faster so that we can provide deeper value to our customers. In the medium term I'm hoping to introduce Docker to our toolset and eventually expose it to our users, so that you can trivially run your tools and code anywhere!
Think I might be able to help you? Shoot me a mail.