Guest post by Cindy Royal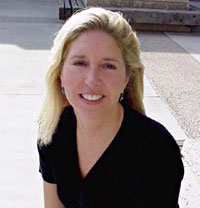 I'm an associate professor in the School of Journalism and Mass Communication at Texas State University in San Marcos. We're just a short distance from Austin, with a large (>34,000 students) and diverse campus. Since I joined the faculty at Texas State, I have been focusing on advancing students' technology skills and exposing them to the perspective of data journalism. For the 2011-2012 academic year, my colleague Jacie Yang and I were awarded a grant sponsored by the Association for Education in Journalism and Mass Communication and the Knight Foundation called Building a Bridge Between the Knight News Challenge and JMC Programs. The goal of our proposal is to develop a site that focuses on Texas State's recent designation as a Hispanic Serving Institution. We chose to partner with the Knight News Challenge winner The Jefferson Institute and use their Drupal-based VIDI data visualization modules, but we also wanted to broadly expose students to more of the innovative work of News Challenge winners through a semester-long speaker series. Thus the Telling Stories with Data series was conceived.
One of the first organizations we considered was Scraperwiki. I have long been following the work on their site, and I appreciate the approach of a simple Web interface that allows the user to customize code in a variety of languages. We are using my Advanced Online Media course as the platform for the grant, and that class consists of graduate students (and one brave undergraduate) who have a communications background but are interested in advancing their technology skills and knowledge as it relates to storytelling. They have all taken an introductory Web design class and are now being introduced to higher-end programming including JQuery, Content Management Systems, PHP/MySQL and Ruby on Rails. But, they are not developers. We are approaching this by giving the students a basic understanding of code and then providing access to tools that they can easily manipulate. The Scraperwiki platform is perfect for this, and I have watched with interest as the site has evolved.
On March 21st, right after our major project covering SXSW on our SXTXState.com blog, we will welcome Thomas Levine, senior developer at Scraperwiki, to our campus for a scraping workshop. Levine will introduce students to the concept of scraping and help them develop a project and analyze the data. We are very excited to learn more about the platform and how we can be most productive in gaining access to information we find online.
Other speakers in the series include Aron Pilhofer, director of Interactive News at The New York Times, and Dante Chinni, of the Jefferson Institute and Patchwork Nation. In addition to my class, we have invited students from other classes to attend, as well as local news organizations including the Austin American-Statesman and the Texas Tribune.
You can find more information about me and the courses I teach at the links below: