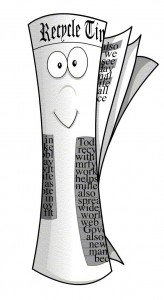 A couple weeks ago, I joined the 110-year-old WAN-IFRA at their annual Digital Media Conference at the swish ETCVenues' 200 Aldersgate London pad. The organisation has become the voice for the worldwide community of newspaper publishers, and the DMC was a truly international affair with 37 countries from all five continents represented. Senior executives see it as a place to have a 'pow-wow' with their peers on what's happening in the industry, and to listen and respond to some of the wider issues affecting the sector. Having cut a swathe through the industry's revenue model, Google's presence was understandably palpable! They had a good showing because many publishers are now value-added resellers to the giant tech company.
It quickly became clear that the big issues facing the industry are:
how to grow revenue from advertising
how to cut the cost of serving multiple platforms like tablets, mobile devices and PCs
how to innovate.
Unsurprisingly HTML5 was also a popular topic and a number of ready-made products featured in the presentations.
Day 2 was focused on innovation and I had an opportunity to talk about what ScraperWiki has been doing to help in the sector.  I tried to feature stories that data scientists from our community created specifically for the media.
I also wanted to talk about some of the women doing great work, so I rolled back to the story that Anna Powell Smith (@darkgreener) helped craft at our very first Hacks/Hacker day in January 2010. The story was about the number of articles written by MPs for British newspapers – it is a simple and effective visualisation: 'They Write for You".
I also talked about the data-driven stories that Nicola Hughes (@datamineruk), Francis Irving(@frabcus) and Julian Todd (@goatchurch) created for the awarding-winning Dispatches programme. These focused around the National Asset Register and English Brownfield Sites.
I finished on the rose visualisation that Julian and Zarino Zappia (@zarino) made to enliven Somerset and Devon Fire Incidents. It seemed like a good candidate to show how local government data can be used to make an interesting, evergreen story:
Dr Johnny Ryan (@johnnyryan), author of 'A History of the Internet and the Digital Future' and Chief Innovation Officer at The Irish Times followed up by introducing three new media startups.  This was interesting because the paper is a reasonably conservative publication that has taken the unusual step of acting as a technology accelerator in Dublin. So, hats off to its editor Kevin O'Sullivan!  It provides space, desks, access to management and a platform for the startups to introduce their offerings into the media market.
Here are the three Dr Ryan mentioned:
Oliver Mooney (@olivermooney)  told us how GetBulb allows you to make compelling infographics simply by copying and pasting your data into a template.  They also have a wacky introduction video which made me smile!
Paul Quigley (@paulyq) introduced NewsWhip, a technology that tracks all the news shared on Facebook and Twitter each day to find the fastest-spreading, most-shared, high-quality stuff.
Neil O'Connor from Blockmetrics showed his technology to detects ads being blocked by website visitors, and how to analyse how much ad revenue is being lost as a consequence how companies can do something about it.
The industry is very well aware of the challenges it faces, although there was a level of surprise by some delegates that mobile advertising would not be a panacea against falling revenues. This industry faces tough times ahead, but refreshingly it is proactively looking at innovation as both a defence mechanism and a route to growth and profitability.