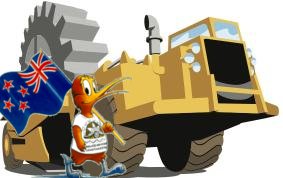 You may have noticed a Kiwi driving our digger around of late (image is purely metaphorical). A New Zealander by the name of Tim McNamara has been unearthing earthquakes, government bills, historic places, clinical trials and even companies.
I had to enquire after such a scraping wizard (trying to get a Lord of the Rings reference in here, not working too well). It turns out, Mr McNamara has an open data pedigree. He's just started contracting for the Open Knowledge Foundation and is working on improving opengovernmentdata.org and opendatamanual.org. Part of his work involves advising governments about opening their data. Which is why he's such a  star ScraperWiki user.
"I had a hunch that that governments don't need to spend
millions of dollars on rebuilding a system to have a fancy
web API. So, I decided to validate that hunch . I found that I was able to extract hundreds of thousands of data very quickly. Moreover, all of that data is available in a consistent API between different domains. Perfect! With a bit of community engagement, governments could use ScraperWiki to provide that web API for their legacy systems. That's a really exciting prospect". – Tim McNamara, Open Knowledge Foundation
What I find truly amazing and inspiring is that Tim doesn't consider himself a programmer. He thinks of himself as "more of a writer and a thinker. When I code, it's because I think it's the best thing that I can do with my time to support a goal at a given time." Which is the sort of civic hacking, public interest coding we like seeing on ScraperWiki.
So watch out New Zealand – you're being ScraperWikied! 
Tim is in charge of this year's PyCon for New Zealand. So if you're in the area please say hello.